Cal.com — The coolest open-source alternative to Calendly
All you need to know about the most public private company.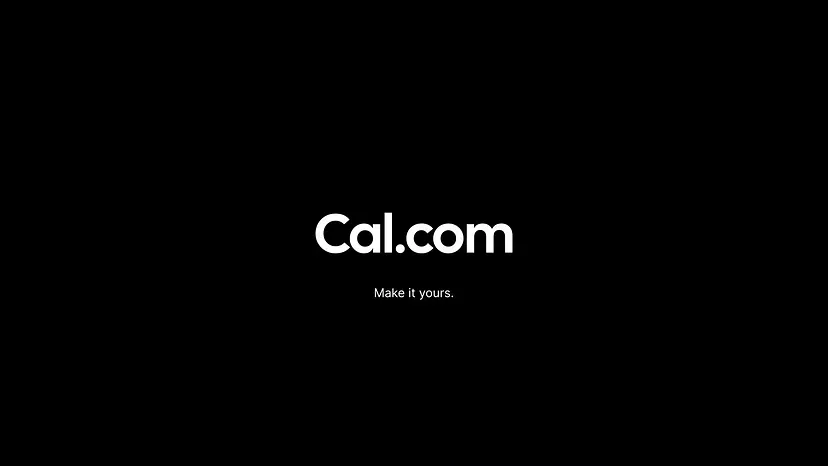 All you need to know about the most public private company.
Disclaimer: You're going to leave this blog extremely impressed. Continue reading if you wish to get your mind-blown! (in a good way ofc)
Hi! Welcome back :)
A product-centric blog after a while.
Well, it's not just any product. It's hands down one of the COOLEST products *and* companies you will ever come across.
Let's get right into it.
What is Cal used for?
Scheduling meetings and video conference calls on your calendar.
Who can use it?
Absolutely everyone. (free for individuals)
Is it open source?
Yes. It's a commercial open source software (COSS) product.
But this is just the tip of the iceberg.
Cal offers you a ton of features and takes care of wayy too many scenarios — without you breaking a sweat.
In Cal's words, it's "Everything you need in a scheduling app."
1. Get tailored links
Set availability, location, duration and more on a per-link basis.
2. NEVER get double booked
Cal syncs all your calendars to verify your availability.
3. Automate the hassle
Notifications, reminders, follow-ups, thank-you notes are handled automatically.
4. Distribute requests automatically (for teams)
You can choose a fixed host along with Round-Robin team members who can take turns.
5. Routing forms for the right match (for teams)
Bookers get a form of questions so you can find the right person or event for them.
6. Avoid meeting burnout
Customize buffer time and minimum notice periods to help you avoid overbooking yourself.
You know what?
Let's take a feature-break and find out when, how, and WHY Cal started.
The Origin Story
Meet Peer Richelsen, the Co-Founder and Co-CEO of Cal.com
Side note: He's one of the coolest Founders you'll ever come across on Twitter!
It all started with Peer, while he was building leanhire.com — a hiring platform (to hire contractors before converting them full-time.)
Calendly was used as the scheduling infrastructure, but Peer found it too limited in terms of customization, APIs, and a few other things.
He later joined the On Deck Fellowship [A community around a cohort of founders at the earliest stages of starting a company].
During the Fellowship, he started looking for an open source version or other alternatives to Calendly, and eventually asked the community as well.
After failing to find any good alternative — he set out to build his own!
(Yes, it was called Calendso)
About 2 months later, Lean Hire got acquired by On Deck…
and Peer got hired as the new Head of Product.
The catch?
He decided to stop pursuing his 'Calendly alternative' idea any further.
But, wait for it…
.
.
.
.
.
People kept signing up for the waitlist!
Interestingly, Bailey Pumfleet was one of the first subscribers. Apparently, he had found a similar gap around customizable scheduling.
As soon as Peer shared the update about stopping development, Bailey contacted him.
"When Peer notified me and the other early users that the development will be paused, I immediately reached out to him, and we started talking."
They both aligned on the need for a Calendly replacement that is customizable, integrates with anything, is white-label, and offers more.
But this isn't the whole story.
Fun Fact: Bailey went from being a contractor to the primary Co-Founder of Cal.com!
H O W is this possible?!
Let's find out!
Storytime
When LeanHire got acquired, Peer was the Head of Product at OnDeck. That was his full-time job while considering Calendso as a side project.
He spec'd out what he wanted to do and published his idea on a website.
The co-founder then agreed to pay Bailey $5,000 to work for 2 weeks to work on finding a solution.
He wanted someone to take over this side project, and he chose Bailey.
Bailey worked super well on their initial arrangement — so the two decided to build the business together. But Peer continued to work full-time at OnDeck.
Eventually, Peer decided to leave his full-time job and dedicate himself to Cal.com. It was almost a no-brainer.
As huge believers of open source, they decided to always keep Cal open source right from the start.
"We believe that scheduling should be accessible to everyone."
Building the most basic MVP
Started out as a waitlist > then a small Slack community > followed by a very basic prototype.
Fun Fact: Over 500 people signed up for early access!
They hard-coded the MVP (minimum viable product) of Cal.com in just 3 weeks.
"We worked on it further for about 3 weeks, then launched on Product Hunt, as an alpha stage release."
💡 Alpha release: A very early release of a product to get preliminary feedback about the feature set and its usability.
The first Product Hunt Launch
"We had a waitlist of 1000s on Product Hunt before we even shared that we were building it," said Bailey Pumfleet.
The first version was launched on April 30, 2021.
The Product Hunt launch was a HUGE success–getting a lot of early traction, and positive feedback.
Here's a snapshot of Cal's April 2021 launch results:
Yep. The #1 Rank in Product of the Day, Week, and Month!
Excerpt from a story featured on Product Hunt
"Cal.com (formerly Calendso) truly had a rocket ship launch.
The Product Hunt team was happy to support Cal.com founders Peer Richelsen and Bailey Pumfleet with a Maker Grant to continue building their product."
The Famous Rebrand and Launch v1.0
The switch from Calendso to "Cal" is one of the most amazing rebrands of all time.
5 months after the initial launch, in September 2021 —
"We finally bought the name a few months before our launch. We waited to use it until it could coincide with our 1.0 launch,"

— Bailey Pumfleet, Co-Founder
The team says Cal.com is the biggest and most significant purchase that the startup has made.
The response? Well, pictures speak louder than words 😉
In the official announcement, the team stated —
"Twenty years after the big bang of the internet it's basically impossible to find three-letter domains for sale, let alone one that can fit your product so perfectly like Cal.com for Calendars.
It's a blessing to be able to call this domain our new home on the web, even though the chances were slim."
What changed since Product Hunt
- Cal.com (brand name)
- Zoom, Google Meet
- Stripe Payments
- New Free Hosted Plan
- New Cal Video powered by Daily.co
- New Cal Sans Typography (open source)
- New API Docs
- New Round-Robin
- New Group Scheduling
What started out as a simple side project, an open source alternative to Calendly, has now grown to become the category leader of Open Scheduling Infrastructure.
Source: Cal.com Blog
1st Seed Round and Funding
Later in December 2021, Cal.com, Inc. raised $7.4m Seed
This round was led by Joseph Jacks from OSS Capital with the participation of an open-source all-star team including Naval Ravikant, James Beshara, Liu Jiang, Chad Hurley, Remote First Capital, Tribe Capital, Balaji S. Srinivasan, On Deck and many more.
This isn't all.
Exactly one year after the 1st launch, on 15th April 2022:
Cal announced raising $25M Series A 🎉
It was led by Alexis Ohanian from Seven Seven Six along with Obvious Ventures, OSS Capital, Jack Altman, Tobi Lutke, Anthony Pompliano, Daily.co, Larry Augustin, Remote First Capital and more.
Alexis tweeted:
"What if time were programmable? I found @calcom while searching for a solution to build scheduling into Cerebro, our operating system for @sevensevensix. What was a no-brainer tech for us became a no-brainer Series A for us,"
On the same day, the team announced that they had grown from a handful of users to almost 20,000 customers! 🙌🏻
Back to the Product
Let's dive back into learning more about Cal, its v2.0 launch, and the latest v3.0 one! 🚀
On September 16th, 2022 — The v2.0 launch was a HUGE deal.
Why?
- Rebuilt from scratch
- Redesigned
This launch was hunted by none other than Alexis Ohanian himself! (Co-founder of Reddit). He said,
"I'm pumped to hunt Cal.com's 2.0 launch, a complete remake of its open source scheduling tool. What's even more exciting is the introduction of the forever free plan for individuals, thanks to its growing enterprise business."
---
Some Highlights of v2.0 to v2.9
- A ton of new features, integrations, updates, fixes, and enhancements
- Launched 27 new apps in the App Store
- Earned 20,500+ GitHub Stars
- Pushed 3,335 commits
- Beautiful new official Cal.com docs
- Booking calendar load time down to 214ms (milliseconds)
- ISO 27001, SOC 2, HIPAA, CCPA, GDPR certifications (compliance)
- Booking forms providing complete control over your booking questions
- Booking Insights for in-depth analysis across all your team's bookings
- Managed Event Types launch for team members
- Fully branded themes for self-hosting (make it yours)
- Dark mode along with light mode
- Support for 30+ languages
---
Coming back to the (coolest ever COSS) company.
The team promotes and encourages a transparent and open culture.
"We believe transparency builds trust and trust is the foundation of everything. We have all of our business metrics public."
If you visit cal.com/open, you will find everyone's salaries and all the core metrics like active users, customers, issues, star, forks, PRs — basically, everything you can (and can't) expect.
"Cal financial story is inspiring of course, but taking the open culture to the max is the much greater achievement IMO…"
— Timur Ercan, Co-Founder of Documenso
AND their Twitter page is a must-follow! 💙
The LATEST Launch
Today, 15th June 2023 is the official launch date of Cal's v3.0!
Watch this space to learn more about it.
Cal.com is on a mission to connect a billion people by 2031 through calendar scheduling.
With Cal, "Focus on meeting, not making meetings."
It's time for you to make Cal.com yours :)
Website: Cal.com | Open Scheduling Infrastructure
Twitter: (@calcom) / Twitter
Merch store: Cal.com | Merch
Bonus 🎁
Did I mention that Cal has official music playlists?!
Cal.fm — The official Cal.com work playlists
Did I mention that it's one of the coolest companies ever?
---
Until next time
Don't forget to follow Scoutflo for all things commercial open source and more 💙
Our mission is to make commercial open source mainstream! 🚀
We recently launched Scoutflo Atlas (Beta) on Product Hunt, and ranked #5 in Developer Tools of the Week! 🎉
Thank you for reading! :)